I really like the clean look of the original 14″ Mopar Rallye wheels and I´ve thought about getting new tyres for them… But in the end it would still look kinda wimpy anyway. After scouring the excellent thread E-Body Tire Combos at Cuda-Challenger.com, I decided that I had to get new wheels!
Yesterday I pulled the trigger and ordered a set (2 8×15 and 2 7×15) of "Wheel Vintiques 56 Series Chrysler Rallye Silver Wheels" from Summit and i´m pretty sure they´ll look great with some Cooper Cobra Radials on.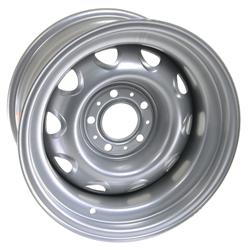 As shipping pretty much anything from the US cost shitloads these days, I started looking in to other options and found SMI Trading AB, a company located only an hour and a half from me. They ship containers from Vero Beach, Florida once a month. I got in touch with them and they gave me a great quote so in early April, i´ll pick up my wheels from their warehouse.
In a couple of weeks, me and my wife are off to NY so i´m gonna order some stuff from Summit that I can bring home myself, such as trim rings for the wheels as well as some stuff for the 360 engine that´s needed before we can drop it in the car.